Master Forge Smoker
Master Forge smoker is your efficient and versatile friend when it comes to meat or fish smoking and smoke roasting. There are a lot of popular smoker equipment names in the market, but none of them can beat the quality and great results that can only be achieved using this brand. Smoking is an excellent way to preserve or even cook food because it produces that unique BBQ or smoked aroma and flavor that everyone loves. There are different types of smokers and smoking techniques; the cold, hot, and the smoke roasting or baking.
The different types of smoker offered by Master Forge
There are three categories of smokers that are usually classified according to the heat source. The most basic of which is the charcoal smoker which makes use of burning charcoal to produce heat and smoke. The next is the gas or propane smoker that uses gas as the fuel and heat source. And finally, there's the electric smoker that works like your electric heater or oven. Even if the gas and electric types use a different fuel or heat source, they still require the user to add in his choice of wood chips to add up to the smoke or produce the desired smoke flavor. Currently, the Master Forge electric smoker is not available.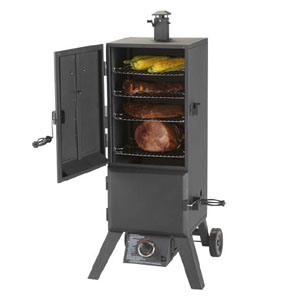 Master Forge charcoal smoker features
Convertible or multifunctional. It has multiple functions from being a simple smoker up to becoming a griller, roaster and even a steamer.
Portable and convertible. The smoker is large enough for your cooking or smoking needs and at the same time, it is compact making it easy to store or carry when going outdoors.
Large 376 square inch cooking capacity. Though compact, the smoker is designed to accommodate the preparation of smoked, grilled, broiled or steamed menu for the entire family.
Durable and quality make. With a Master Forge smoker, you can be assured of a quality and durable make. All the smoker parts are intact and welded well, it features heavy-duty grates with chrome finish, and has powder and heat-treated paint to ensure that clean and sleek look.
Built in thermostat. To aid you in your food preparation, the charcoal smoker also has its own temperature gauge.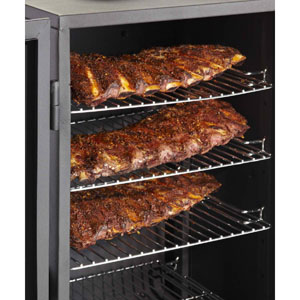 Master Forge gas or propane smoker
Powered by gas or propane. This smoker was built for users ease. Instead of using and manually firing charcoal, the gas or propane heat source can automatically be ignited. Even if it is gas, the burner is capable of reaching 15,000 BTU of heat.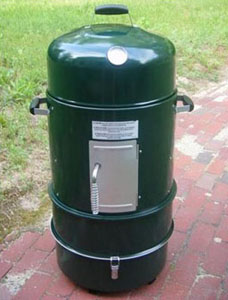 Two door for easy access. The smoker unit has two doors to avoid the need for users to remove the entire cover when accessing the wood chips and water compartments. This prevents that needed heat and smoke from escaping the food compartment.
Large cooking space. The smoker has 4 heavy-duty and plated steel racks plus a total cooking are of close to 800 square inch.
Quality and durable built. It's a heavy-duty equipment. All parts are welded correctly and are powder coated for a protected and lasting paint.
Extra features. Extra features include a foldable side table, button ignition, and a temperature gauge.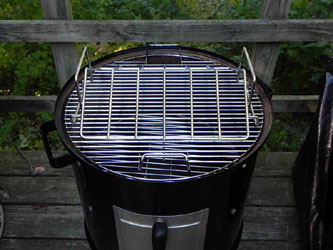 What users are saying about Master Forge smoker
All customers who have tried the brand's smokers are satisfied with their purchase. All the units sold are built to last, looks very sleek and professional, works brilliantly and true to its claims, and are all worth it considering their budget-friendly price. Both the gas and charcoal smokers are built with beginners in mind. Even for those who are still trying to perfect their smoking or grilling skills, these units are perfect. No need for a Master Forge smoker manual because use of the equipment is pretty simple and straightforward.
Try it now to see the difference!